History of John Moncrieff - Part One

The Present Day
In 2000 the John Moncrieff Ltd name was re-established; a former employee took over the name and re-established this proud Perth company. The continuous link with the original John Moncrieff is maintained as they had worked continuously since June 1995.
The present John Moncrieff Ltd is a thriving business based in Kinross. It still maintains the tradition of supplying glass for Industrial, scientific and engineering applications, more recently they have developed a highly successful lighting division.
Moncrieff had always been a manufacturer of oil lamp chimneys, to complement the chimneys shades were manufactured, and from there they began to manufacture and supply shades for electric lights. In a few short years Moncrieff is now firmly established as a innovative lighting business. Supplying custom made, vintage and modern lighting .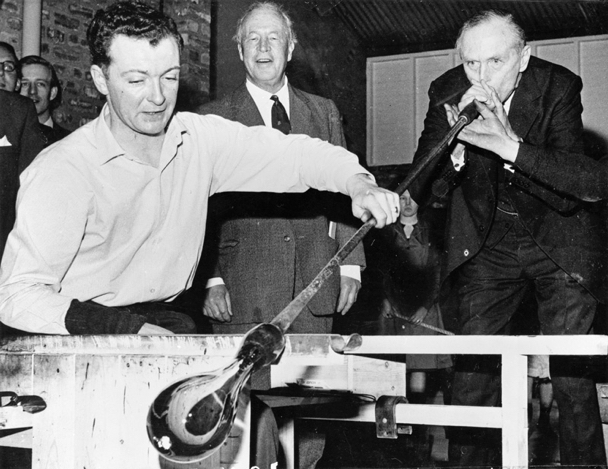 History
In 1834, John Moncrieff was born to Agnes and Thomas Moncrieff, at Cherrybank, Perth. He attended the village school until he was 13 years old, when he got his first job at the Perth Ink Works (1847), owned by John Todd & Co. He continued his education at night school. In 1855, at the age of 21, he was appointed manager of Todd's glassworks, where he remained until John Todd's death in 1865. While at Todd's, John Moncrieff proved to be a very practical man (according to his obituary) taking on the job of building furnaces and experimenting with the glass being produced. Following the death of John Todd, he decided to set up his own glassworks, initially naming it the North British Glass and Ink Works, which he opened in 1868 at 189 South Street, Perth. These premises were rented and, according to the 1871 census records, five men and 13 boys were employed in the manufacture of ink and glass. The company remained at South Street until 1881 when a new facility was set up on two acres of land at St. Catherine's Road. The 1881 census reports that 24 men, five women, 19 boys and four girls were employed. In 1896, a further 32-acre parcel of land was leased from the Council at the lower harbour.
In addition to his work, John Moncrieff was active in the local community, giving both time and money for the benefit of the City of Perth. He was a member of the Perth Liberal Club and eventually became Vice President of both the Perth Liberal Club and the Perth Liberal Association. As well, he served on the Perth Town Council for five years and as a member of the School Board for 12 years. He belonged to the Evangelical Union Church and ultimately became the Manager and President. As an advocate of temperance, he became President of the Perth Gospel Temperance Society. Yet even these did not fully occupy him. In addition, he held the position of President of the Perth Bowling Club, and was a Director of the Perth Bible Society. A keen fisher, he belonged to the Tay Fishing Syndicate, and presumably glass target ball shooting fell into his list of activities.
He married Christina Robb (born 1851) on 6th June, 1867, and was later referred to as 'John Robb', possibly to avoid confusion with his youngest son. He died of a heart attack on September 30th, 1899, and was survived by his wife and three children: Thomas Robb Moncrieff (born 6th August, 1869), Winifred Catherine Moncrieff (born 26th September, 1871) and John "Jack" Moncrieff (born 1st June, 1874, died 29th April, 1950) who took over as Managing Director of the company after his father's death.
The superior quality of Moncrieff's products earned the company an international reputation and its gauge glasses, marketed under the brand names 'Perth' and 'Unific' were sought world-wide by locomotive companies, steamship companies and the British and foreign Navies. This leadership was recognized in 1876 with award of the first of many medals at international trade exhibitions. Moncrieff's had awarded the sole selling rights for the United States to H.A. Rogers in 1872; this was continued by his successors until 1925 when the assets and goodwill of the H.A. Rogers Co. was acquired by Jenkins Brothers. The business then being conducted under the name Jenkins Bros. Moncrieff-Rogers Division.
During 1896 Moncrieff's further expanded its operation by leasing a 32-acre parcel of land from the Council at the lower harbour; it was here that the gauge glasses that were to make John Moncrieff's fortune were fully developed. In addition to ink and gauge glasses the works also made glass bottles, pigments and mineral dyes, as well as gums for bookbinding
In 1900, under the management of John Moncrieff, junior, the company acquired the ink production division of John Todd & Co. The glass side of Todd's was sold to Patrick McNeill, a Perth bottle manufacturer, who carried on business as Gibson & McNeill for only another two to three years. In 1905, Moncrieff's became a limited company. Between 1915 and 1919, following the outbreak of World War I, the company constructed three new furnaces at the St. Catherine's Road site. The War effort meant new challenges for the British glass industry, which had depended on imports, mostly from Germany and Bohemia, to fulfill its laboratory glassware requirements. More had to be produced domestically and Moncrieff's readily met that challenge. In 1919 they acquired Tomey's Glass Works, which had been operated by Enoch's two sons, Enoch Joseph and William, since their father's death in 1867. Although Todd's and Tomey's continued to trade under their own names, Moncrieff's had now become the only producer of glass in Perth.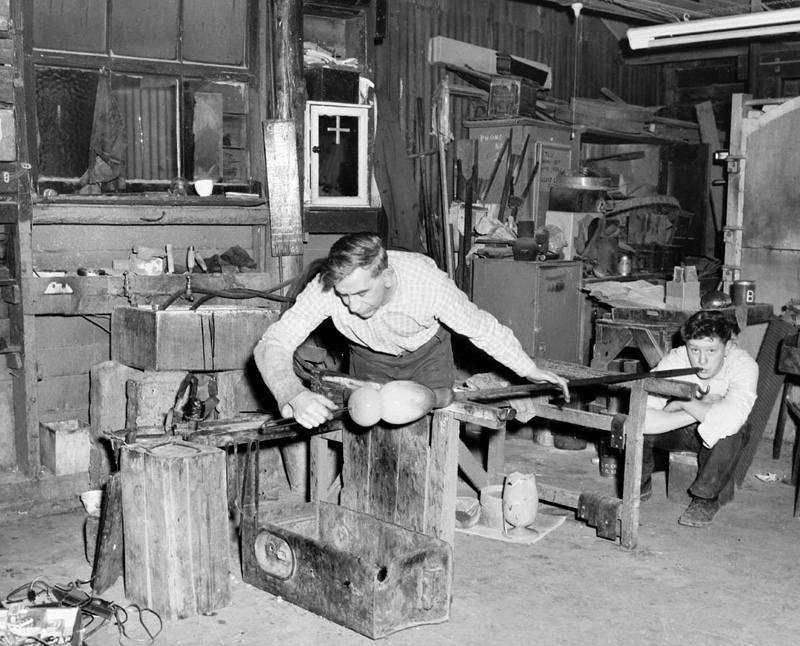 In 1920, John Moncrieff received the O.B.E., in recognition of he contribution by Moncrieff's Glassworks to the development of the laboratory glass industry in Britain. The company supplied laboratory glassware to British Government departments, factories, hospitals, universities and schools. As a result of continuing research and development of the Moncrieff range of glassware, a new product was introduced in 1926, called Monax. This is a borosilicate glass with great stability and strength; it is resistant to both acids and alkalies and can withstand sudden and extreme temperature changes. A further development occurred at Moncrieff's in the 1920's after the cessation of hand production of mould-made bottles in 1926. During the 19th century, machinery to mass produce glass bottles had been pioneered in the United States and Alexander McNish of the U.S. worked with Moncrieff's to design small-scale automatic bottle making machinery. The resulting machines were called Monish – a blending of the Moncrieff and McNish names. The Monish Glass Machine Co. was established to start production, and the first Monish machine was installed in 1926 at the Tomey's glassworks premises. This represented significant progress and leadership in the production of glass bottles.
In keeping with its commitment to diversification, Moncrieff's began exhibiting a new line of coloured glass called 'Domestic and Fancy Glassware' at the British Industries Fair in 1919. And in 1924, also at the British Industries Fair in London, a line of art glass called 'Monart Ware' was exhibited. This Scottish art glassware was the creation of John Moncrieff's wife, Isobel, and Salvadore Ysart, a Spanish glassblower who had been hired by Moncrieff's in 1922 to make laboratory glass, with his son Paul as apprentice. Salvador Ysart and his four sons (Paul, Augustine, Vincent, and Antoine) were destined to leave a momentous legacy within the Scottish art glass industry. (Link to article on "Monart Glass") The production of Monart glassware ceased when Paul Ysart left Moncrieff's in 1963 to join Caithness Glass as Training Officer and Technical Advisor.
John Moncrieff died on April 29th, 1950 and by 1951 control of the company had passed to David Bennie and Sons of Glasgow. It continued to prosper into the 1970's but changed ownership a number of times during the 1980's and 90's. In the 80's and early 90's, the company was supplying flat gauge glass made from Monax borosilicate, labeled "Macbeth Brand" to the Corning Glass Company in the United States. In 1992, the company was bought from receivership by Fuller Investments, chaired by Christopher Lattila-Campbell and the name was changed to "Monax". Mr. Campbell's wife, like Mrs. Moncrieff before her, was interested in the art glass side of the business and did develop some innovative uses for old stocks of lab ware, milk jars, etc. She toured craft fairs with these products. The last piece of glass made in the Perth factory left the end of the Lehr on December 21, 1995 and the plant was closed down in January, 1996. Even then its work was continued by Monax Glass, Spectraglass and in the year 2000 the company name of John Moncrieff Ltd., was re-established, with a mission of developing to its previous glory. This company carries on business in Dunfermline, Fife, producing art glass, paperweights, gauge/sight glasses, circular sight glasses, tubular gauge glass, and other glass products.
Related Tags